Others Rapid Screen Tests
JAL medical as an exporter and wholesale supplier, exports additional rapid screen tests, namely- ABO & RhD Blood Grouping Test Card and Blood Grouping Kit.
The ABO and RHD blood grouping tests assay start with a sample taken and applied to the sample well with sample diluents. The monoclonal anti-A & anti-B immobilized present on the pad in the sample region reacts with the corresponding antigen that are present on the Red Blood Cells (RBC) surface.
Samples that are positive produce an immune response and captures the RBC on the sample region to indicate red signal. This indicates that the test is positive. The negative sample does not induce any immune response and on addition of sample diluents, washes away the RBC. The absence of RBC indicates the negative result.
iCare Advanced ABO & RhD Blood Grouping Test Kit
For its reliability at room temperature and competence to meet the threshold for a point of care test, the iCare Advanced ABO & RhD Blood Grouping Test Kit employs solid-phase advanced technologies, a novel technique that can be used at an outdoor blood collection site or at the hospital setting as compared to traditional method. The ABO and RhD blood groups may be determined with the Blood Grouping Kit, and our kit can be used on fresh whole samples taken and provides 100 % accuracy as well as results in minutes.
As a bulk supplier of diagnostic kits, Jal Medical provides numerous diagnostic goods in bulk supply to hospitals and other healthcare organisations. We as manufacturers offer the best quality diagnostic test kits at the most competitive prices.
iCARE ABO & RhD Blood Grouping Test Card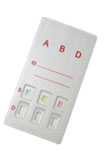 iCARE ABO Blood Grouping Test Card