Fertility Rapid Test Kits
iCARE Fertility Rapid Test Kits
Jal Medical as manufacturers of Rapid Diagnostic Test Kits, the iCARE fertility range comprises of ovulation test kit, menopause test kit, and pregnancy test kits. The ovulation tests aid you in predicting the fertility cycle for females. The Luteinizing Hormone or LH increases substantially in the middle of the menstrual cycle. As Rapid Test Kits manufacturers, we know that this hormone is found in the urine, which is detected using the ovulation test kit. An increase in the LH expedites the ovulation process in which the egg is released periodically from the normal fertile woman. As wholesale suppliers, the LH Test kit consists of a cassette in which specimen is dropped. The capillary action carries this specimen to migrate along the membrane and reaches the test zone. As the traces of LH in the specimen reaches the test zone of the membrane, it results in the formation of a coloured line that denotes a positive result. Absence of colored line signifies negative result.
As one of the top Rapid Test Kits suppliers and exporters the iCARE hCG rapid diagnostic test is a visual assay for detecting early stages of pregnancy. As exporters and bulk suppliers our diagnostic test offers 2 test specimens, in urine only and serum & plasma or urine test. Both aforementioned specimens are clinically proven to be above 99% accurate. The pregnancy test detects the presence of Human Chorionic Gonadotrophin (hCG). hCG is known as the pregnancy hormone and is found in the urine of a pregnant woman. We as one of the well-known rapid test suppliers can also bulk supply these test kits to hospitals, labs, and other facilities.
iCARE Menopause (FSH) Test Kit
For the qualitative identification of menopause, the FSH Menopause Kit is a rapid test that is simple to use, quick and reliable, more than 99% accurate. The FSH (follicle-stimulate hormone) concentrations in your body are found with this test. An easy urine sample is all that is needed for the FSH Test Kit, and it may be collected in the comfort of your home.
iCARE Ovulation (LH) Test Kit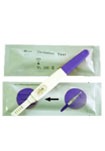 iCARE Menopause (FSH) Test Kit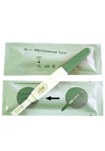 iCARE Pregnancy (HCG) Test Kit